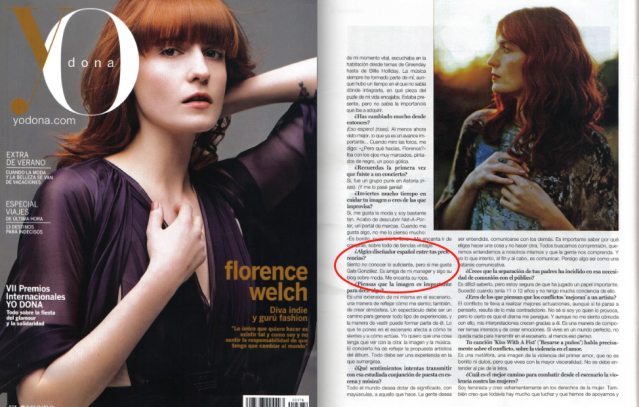 I remember back in 2007 going to the 333 club in East London to one of those gigs where you don't really know who is playing… and there was
Florence Welch
and her characteristic voice. Weeks later she was invited to play at my mates BBC radio show and from then on I got to bump into her in different parts of the world as we had close friends in common. When I was in
Sydney
her manager Hannah called me to let me know they were also touring around the country and I got to join them at their three gigs on the New South Wales coast. So imagine my surprise when last Saturday my friends in Spain told me that, in an interview for
YoDona
magazine, she mentioned that
she follows my blog
and that she also loves how I dress. This is truly inspiring as it comes from an artist whose meteoric career I've seen grow from the start, and whose style I can really relate to and also adore. I guess  moments like this help me realise why it's been worth keeping this blog going through all these years and there's still so much more to come.
Aun recuerdo perfectamente la primera vez que escuche a
Florence Welch
(Florence+Machine) en directo, en el club 333 del Este de Londres en el año 2007. Desde luego no seria la ultima vez que escucharia su caracteristica voz y vería su cabello rojo moverse al son de sus canciones. A los pocos meses, los amigos con los que había ido a su pequeño concierto, la invitaron a tocar en su show de radio para la BBC. Y numerosas veces después nos vimos en fiestas londinenses ya que compartimos amigos cercanos en común y nos vimos también en otros lugares del mundo como Nueva York o
Sydney
, donde coincidí durante su gira por Australia. Hannah su manager y amiga desde hace años, me llamo para asistir a sus concierto de la NSW coast y fueron desde luego unos momentos inolvidables. El sábado, mis amigos me hicieron llegar la noticia de que Florence, en una reciente entrevista para la revista
YoDona
, había comentado que es
seguidora de mi blog
. Fue toda una sorpresa que alguien su la talla siguiera mi blog. A día de hoy aun me sigo sorprendiendo de poder dedicarme a lo que me guste y que llegue a personas como Florence, que desborda estilo y talento y a la cual admiro muchísimo, esto me demuestra que aunque todavía queda mucho por comentar aquí, todo el esfuerzo empleado ha sido totalmente merecido. Gracias a todos!