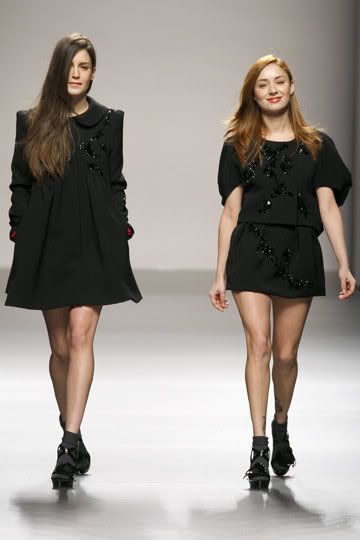 via Vogue.es
Yesterday I had the pleasure to hit the catwalk amongst Miranda Makaroff
at Lydia Delgado´s show during Madrid Fashion Week.
Yet it was the first time I´ve done it(apart from the shows I did
at the Graduate Shows at LCF) I was a bag full of nerves.
But they all disappeared as soon as I was walking on the runway.
Lydia´s clothes are always femenine,simple and very elegant.
And the most important,very wearable. The best part of it? When they told me
that the music was all Roxy Music and Brian Eno,and I was totally buzzing with the idea
of walking while Brian Ferry will be singing.It was a wonderful experience!
………
…………………….
Ayer tuve la gran oportunidad de desfilar para Lydia Delgado.
Fue la primera vez en una pasarela de Fashion Week(y eso que
contaba con alguna practica previa en los desfiles de graduacion de la LCF),
los nervios estuvieron presentes hasta el momento de salida,en el que se
desvanecieron en cuestion de segundos,arropada por los comentarios desde
primera fila de todos nuestros amigos que estaban alli para apoyar a la disenhadora.
Y es que no hay nada como llevar ropa con la que te sientes tan comoda,
ya que los diseños de Lydia siempre han sido elegantes,simples y muy ponibles.
Lo mejor de la experiencia? Cuando me dijeron que la musica seria de uno de mis
grupos favoritos,Roxy Music. La simple idea de pensar en caminar al son de
Brian Ferry me hizo esperar impacientemente hasta el pistoletazo de salida!
Ha sido una experiencia maravillosa!
(si alguien tomo fotos del evento me encantara verlas!)
All the videos behind the scenes:
Todos los videos y entrevistas del show: